Learn how to read your monthly electric usage statement.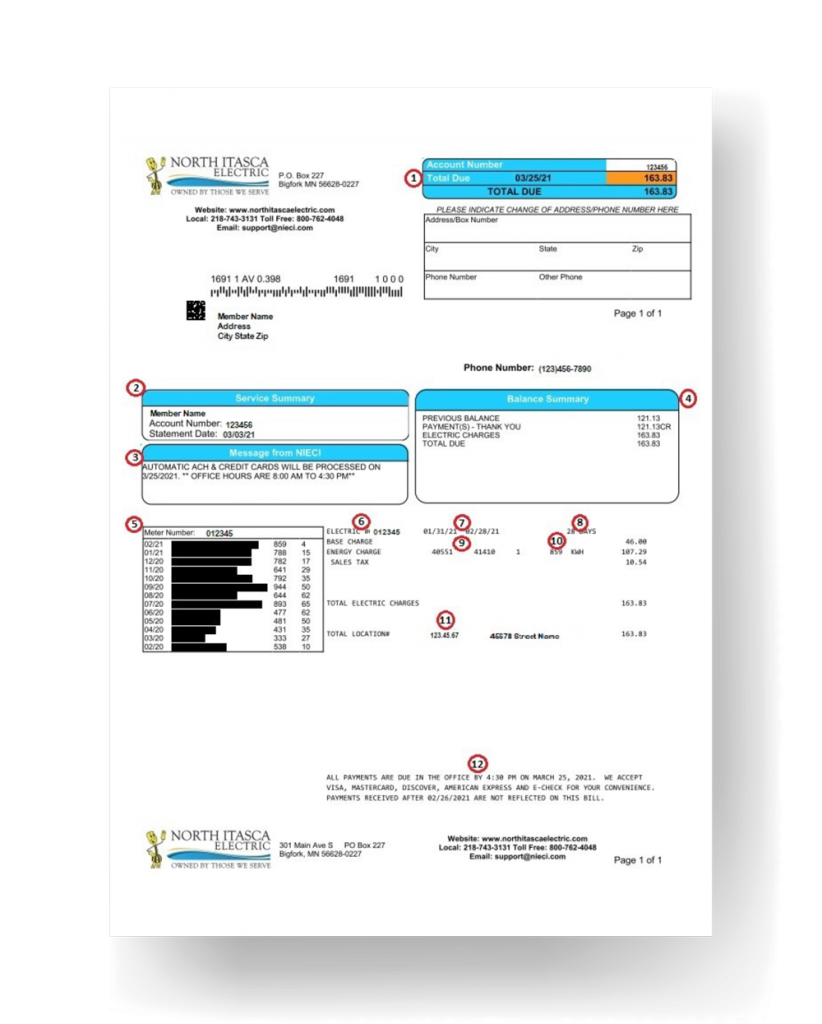 Account Information: This shows your account number, the due date, and the amount due.
Service Summary: This shows the member's name, account number, and the statement date.
Message Box: This box gives members information, helpful reminders, and the office hours.
Balance Summary: This box shows the amount of the previous bill, your payments from the previous month, this month's charges, and the total due. (If you are on budget billing, please see budget billing tab for more information on how to read your statement.)
Usage graph: This graph shows the usage for comparison purposes from month to month on your main meter. It has the meter number at the top, the date, the usage graph, the kilowatt usage, and the average temperature.
Electric #: This is your meter number. If you have more than one meter, the main meter is listed last.
Billing Dates: Shows the dates that the usage is being billed for.
Days: The number of days in the billing cycle.
Meter Readings: This shows the previous months reading and the current months reading. If you see an "E" after the reading it indicates your meter reading was estimated.
KWH: The total kilowatts that are being billed for.
Map Number: This is your pole number and your map location in NIECI's mapping system.
Message: Another place with information and reminders.
Back of the Statement: The back of the statement has more information about your bill. It gives information on ways to pay, payment responsibility, what to do in case of an outage, metering information, what the base fee covers, and more.