A & D Appliance Repair Inc is who we currently recommending for repairs. They do a great job and in a timely matter.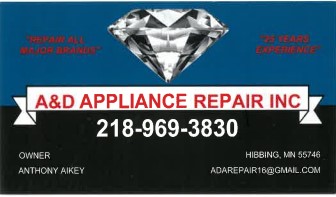 If there are any other repair people in our area that would like to be added please let us know and we will post your information here.
RepairClinic.com is another great repair resource. They help you trouble shoot your issues. You will need the make and model number of your appliance. This is a great resource on common problems for each appliance. You can order parts for your appliances on their website and have them shipped directly to you without any mark up that might apply if North Itasca Electric Cooperative orders them for you.