Electricity is an important part of our lives. We strive to maintain power and minimize the length of time anyone has to be without power. By being prepared and informed, you can help us restore your power as quickly as possible.
---
If Your Power Goes Off
Keeping your power on is North Itasca Electric's number one priority. We will endeavor to furnish continuous service but cannot guarantee uninterrupted service. Despite our best efforts, power outages do occur for a variety of reasons including strong seasonal storms, trees, squirrels, downed power lines, equipment failure, and accidents. By being prepared and informed, you can help us restore your power as quickly as possible.
Check the fuses and circuit breakers in your home and on the meter pole to determine if the loss of power was caused by your system. The problem may be with your wiring and may require the services of an electrician.
Call your neighbors to determine if they have electricity. This helps pinpoint the extent of the outage.
If the cause of the outage is not in your wiring, please call 800-762-4048, 24 hours a day to report your outage. The following information will be helpful:
Name
Account number
Location number
Telephone number
Any other information that may help us locate the cause of the outage (for example, a downed tree, lightning strike, branch across a wire, etc.).
North Itasca Electric Responds to an Outage
The dispatch center reviews information to determine outage location and cause.
Outage information is reported to the line crew.
Line crews work to restore power as quickly as possible. Our goal is to restore power to the greatest number of customers first, and continuing until all power is restored.
North Itasca Electric phones are answered 7 days a week, 24 hours a day. When the office is closed, a dispatch system will handle your call and forward reports concerning the outage to appropriate crews. Should you find the phone lines busy, please be patient. We will answer your call as promptly as possible. The continuation of a busy signal indicates a large outage with many customers attempting to call at the same time.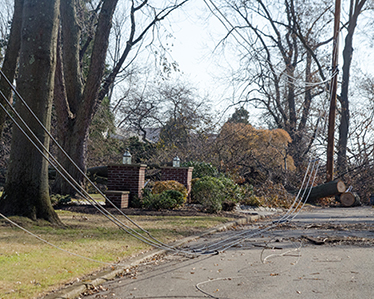 Downed trees and branches
Storms
High winds
Lightning
Ice on power lines
Traffic accidents
Construction work
Digging
Animals
Plan Ahead and Be Prepared
Members may consider adding special protective equipment that will ensure a constant and regulated power supply. This equipment can range from a very inexpensive line filter and will eliminate most problems caused by electronic noise and static interference, to a more expensive device that provides an uninterruptible power supply.
‍
Keep at least one good flashlight and a battery-operated radio with fresh batteries in your house. Place North Itasca Electric's telephone number, your account number, and 911 address near your telephone. Your account number is found on your bill.
Keep extra ice in the freezer. If it is an extended outage, ice can be used to keep perishable food from your refrigerator iced in coolers. You can also use this ice for drinking water as it melts. Wrap blankets over your freezer and coolers. Keep the freezer closed. A well-stocked freezer should keep frozen for several days if left shut.
In a widespread storm outage phone lines are extremely busy and you may not be able to get through to our office. Please visit our Facebook page for outage updates.